The International Ozone Commission (IOC) of the International Association for Meteorology and Atmospheric Sciences (IAMAS) announces that the next International Quadrennial Ozone Symposium "Kos 2004" will be held in Kos, Greece from 1 - 8 June 2004.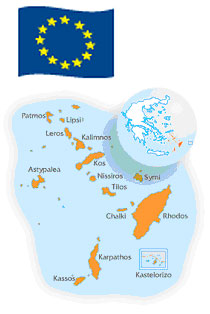 The Symposium will be held at five star Kipriotis Hotels at Kos, Greece. The mean air temperature of Kos in June is 24,7°C and the average relative humidity is 57,6%.
Kos is the island that gave the world Hippocrates, the father of medicine and it is the third largest island of the Dodecanese.
Kos can be accessed by airplane from several major European airports as well as from Athens (flight time from Athens is approximately 35') or by ferryboat (from the port of Piraeus with Fast Ferries approximately 6,5 hours). Kos is close to Rhodes (2 hours with Flying Dolphins) and about 40' from the Turkish coast.
Scientific topics:
The Symposium will solicit scientific papers on all aspects of atmospheric ozone such as:
Observations and analyses of total and vertical ozone distributions
Observation techniques and inter-comparisons
Tropospheric ozone in particular, past and future budgets and trends
Observations and budgets of minor constituents related to atmospheric ozone
Ozone chemistry
Model calculations dynamics and chemistry coupling
Ozone - climate interactions
Ozone and ultraviolet radiation
The Scientific Program Committee will review the submitted papers before the acceptance for presentation. The presentation of a paper should be oral or on a poster. The detailed information on paper submission will be publicized in the second announcement to be issued in May 2003.
Contact points:

Professor Christos S. Zerefos
Secretary of IOC University of Athens, Faculty of Geology,
Athens 15784, Greece
Tel: +30 210 7274133, Fax: +30 210 7274157,
E-mail: ozone2004@geol.uoa.gr