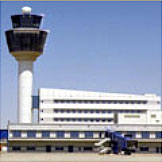 The Athens International Airport is accessible via Attiki Odos, a six-lane motorway constituting the Athens City Ring Road. Public transport is provided by express airport bus connections with Athens center and the port of Piraeus on a 24 h basis, ensuring efficient transport of air travelers and facilitating linkage to key tourist attractions.

Future developments such as the Suburban Rail, to be completed in 2003, in combination with the existing sections and the extensions under construction of the Attica Metro network will further improve airport access and enhance intermodality.

Three express bus lines serve the Airport.


Line E96: Piraeus - Airport
Connection: Line 1 METRO
Route: Karaiskaki Square, Posidonos Avenue, Varis-Varkizas Avenue, and Varis-Koropiou Avenue


| | |
| --- | --- |
| From Piraeus | From the Airport |
| 05:00-20:30 Every 15'-20' | 07:20-22:10 Every 15'-20' |
| 20:30-05:00 Every 30' | 22:10-07:20 Every 30' |
Line E94: Ethniki Amina - Airport
Connection: Line 3 METRO
Route: Ethniki Amina, Mesogion Avenue, Marathonas Anenue, Attiki Odos


| | |
| --- | --- |
| From Ethniki Amina | From the Airport |
| 05:30-20:10 Every 7' | 06:15-21:25 Every 7' |
| 20:10-02:55 Every 15'-20' | 21:25-03:40 Every 15'-20' |
| 02:55-05:30 Every 25'-30' | 03:40-06:15 Every 25'-30' |
Line E95: Syntagma - Airport
Connection: Lines 2 & 3 METRO
Route:Syntagma Square, Vas. Sofias Avenue, Mesogion Avenue, Attiki Odos


| | |
| --- | --- |
| From Syntagma | From the Airport |
| 05:15-07:25 Every 10' | 08:35-18:55 Every 20' |
| 07:25-02:40 Every 20' | 18:55-23:10 Every 10' |
| 02:40-05:15 Every 25'-30' | 23:10-03:40 Every 15'-20' |
| | 03:40-08:35 Every 25'-30' |
The ticket price for the airport express lines is €2,90. It allows unlimited travel by all transportation modes (bus, trolley, metro) for 24 hours from the time of its validation. The 24-hour ticket can be purchased from the drivers of the airport buses, at all metro stations and at the blue or yellow ticket kiosks of the Athins Public Transportation Network.
All buses depart from the designated area on the inner curbside of the arrivals level of the Main Terminal Building exactly outside the Schengen Exit (doors 4-5)
The taxi queue will start from Door 4 of the Arrivals Level and extend up to Door 1.
Private cars can use the outer curbside of the arrivials level for embarkation. Extensive signage is available on the Attiki Odos for the junctions leading to the southern suburbs, and the rest of the destinations.